Welcome!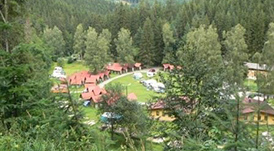 Camping na Kopci, we are looking forward to your visit! Only one point separates the decision to spend your vacation at our beautiful camp site. Midsummer valley is for centuries guarded by the statue of the saint and is interwoven through the flow of the river Bystřička. If you are looking a place to relax or to be very active, we are the ideal place for you!
Autocamp Na Kopci
Surrounded by hills and beautifull forests, deep in the heart of the Czech-­Moravian Highlands.

Looking for a active or relaxed holiday? We are the place to be!

The campsite has a nice swimmingpool and a beautiful river flows past the campsite.
Nieuws
Masters of Puppets festival 01-08 juli 2019
Wij zijn blij te mogen vermelden ook weer in 2019 het geweldig leuke festival Masters of Puppets weer voor de 4e keer bij ons te gast is.
De camping zal daarom niet beschikbaar  zijn voor de "gewone"campinggasten van 28.06.19 tot en met 10.07.19
Dit ivm opbouwwerkzaamheden voor het festival en natuurlijk het opruimen en schoonmaken van de camping na het festival.
Vanaf 11.07.2019 is iedereen weer van harte welkom!! 🙂 🙂
Team Autocamp na Kopci